Ok, this is one of the best DIY home projects I've ever done and I definitely see some DIY Lamps in my future.  If you are looking for a way to make your builder beige house to look more custom and expensive then having unique light fixtures is definitely the way to go.  I scoured the web looking for some at different kitchen lighting ideas and everything that I liked was 800 plus dollars and I need THREE of them for my kitchen island lighting…ouch!
So that's why I turned to DIY to get some custom but cheap lighting and I love how they turned out.
The first problem I came across was finding 3 of the same thing to turn into lights.  I also was looking for something that would be easy to turn into a lamp and would be safe with the heat of a light bulb.  I found this lantern at Hobby Lobby and I think it was about $30 with their %40 off sale. It had a metal base on the bottom that I could unscrew to take off so it'd be open on the bottom and it had glass sides instead of plastic.
They only had 1 but they were able to order extra for me for free.  One piece of advice, we have several places in our house where we have at least two of the same lights and one of them stopped working and so we had to order a new one.  Well, the new one did NOT match the old one we had.  Either the seeded glass had more bubbles in it or the blown mercury glass shade had a different shape and different texture than the lights we had bought at a different time….so if you are having a store order you more than one of something, GET THEM ALL FROM THE SAME BATCH.  Meaning don't buy the one they have on the shelf and order 2 more.  Just get them to order all 3, then they are guaranteed to match.
Step 1
Punch a hole in the top of your lantern to thread your wire.  Make sure there are NO sharp edges in the metal because you don't want it cutting through your wire.
Step 2
First you need to be able to hang the lamp so that the weight is not supported by the cord.  To do this you need one of these brackets and threaded nipples.  I bought all these parts from Lowes.  They have a whole lamp part section in their lighting section where you can buy all the parts you need.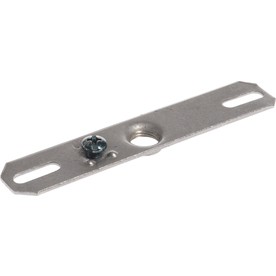 You might find a kit that has this bracket and nipple together.  The nipple threads into that middle hole and the cord threads down through the nipple.
You only need one of these nipples…. it needs to be long enough so that the light bulb hangs down low enough in the light fixture.  I used a short one to begin with and the light bulb ended up being at the top of the lantern and I wanted the light bulb centered in the glass.  If there isn't one long enough in the lamp parts section, ask someone to help you.  I'm sure they have something that will work.
Here's my bracket and nipple threaded together:   (oh, I spray painted my bracket black to match the top of my lantern)
I had 2 problems.  The bracket was too wide for the top of my lantern so it didn't hold it level and the nipple wasn't long enough.  I ended up putting 2 nipples together with some automotive putty to hold them together but don't do what I did…..just find a longer threaded nipple.  To solve the problem of the too wide bracket I bent it on each side and glued it into the top of my lantern.  That held it steady.
Here is my bracket glued into the top of my lantern:
Step 3
You'll need a Lamp Socket, that looks like this,  it's what will hang down in your lantern and hold the light bulb:
When you take the light socket apart, REMEMBER the order everything goes in.  You don't want to forget to put it together back right.
I watched this video on You tube to learn how to wire it:  https://www.youtube.com/watch?v=EyS3HbsQFV8
I'm not an electrician, so I can share some tips but it's your responsibility to make sure it's done right, this is just an overview.  I had my dad as a resource who knows everything about wiring.  If your unsure about this, then you could do everything except the wiring and then have an electrician come in and wire it and hang it.
Split and strip the ends of you lamp cord (which I got at Lowes).  One side of your cord has ribs on the side of it and the other side is smooth.
I attached the ribbed side of the lamp cord to the silver screw and the other wire connects to the brass screw.  You obviously want to make sure that your exposed wires aren't touching anything else besides where they are supposed to touch.
Then reassemble the socket how you took it apart.
If you test it with an electricity meter, you'll find that by wiring the ribbed side of the lamp cord to the silver screw and the other wire to the brass screw that brass metal flap thing down in the middle there (that touches the end of the light bulb) should be connected to your hot wire which is the smooth side and the ribbed side is the neutral.  Which means your hot wire, the smooth side, connects to the hot wire in the ceiling, which is usually black.  It's good to test everything with an electrical meter to make sure you are wiring everything correctly.  The meters are cheap and there are plenty of tutorials out there.

DIY in PJS…oh, yeah!
You see that threaded nipple (that I painted back) screws into the top of the light socket and is secured by tightening the screw
So then you are ready to thread your cord through the nipple, then the bracket that I bent, up through the top of the light fixture and up through the chain (which I bought at Lowes in the lamp part section).  Then it goes up through canopy and you install like any other light fixture.
Lowes also has Light Canopy kits that have the bracket that attaches to your electrical box.
I got this one and spray painted it black: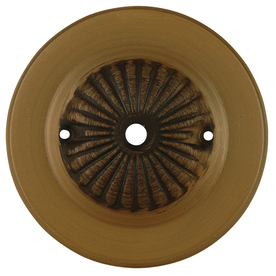 Here's a picture of my bracket installed with the neutral wire in the ceiling connected to the wire that is attached to the green screw in the bracket.  THIS IS VERY IMPORTANT… it grounds your light fixture so that you don't get a shock when you touch it.
I hung the first one and realized I did not like the scalloped edge on the bottom:
So I took it down and drew a straight line (very important) and cut it off with a jig saw.  It wasn't hard.  I used a sander to even out the spots I didn't get perfect then touched up the paint.
What do you think.  I love the way it turned out:
Check them out in my white and gray kitchen